TIPS FOR WORKING WITH BURLAP
I am so excited that fall is officially here! I love the way the shadows fall, the deep rich colors and the crisp cool weather (the crispness has yet to arrive though). Everything about the autumn season makes me feel calm and cozy. I also love to be able to add some fall food to the menu. I love homemade stew accompanied by homemade bread, and homemade chili with a few
fritos
, cheese and sour cream. Wonderful comfort foods, yet so easy, and cheap to make.
Well, to I had a few extra quiet minutes on hand yesterday so I gathered a few things I had on hand to
embellish
these candles for my fall mantle.
I love the look of burlap for fall, so I took a scrap that I had and measured it out and cut it to wrap around the candles. For these I needed 4 inches.
Now here is a great burlap tip in order to cut it straight:

At the 4 inch mark I grabbed one single strand of the burlap and pulled. Do this gently and use your other hand to kind of help "scrunch" it up so the strand
doesn't
break. Keep gently pulling until the strand is completely removed. This will give you a nice space to help guide you to cut straight.
This is a close up view of the space I created by pulling out one strand. Now just cut down the middle of this space and it should be straight.
I then took this piece of burlap and wrapped it around my candle. I used a decorative tack to hold it in place. I use these same candles through out the different seasons, I just change the "wraps" that go around them. I try to not make anything permanent.
I then took a thin piece of
scrap booking
paper and lightly hot glued it to the burlap.
Next came sparkly gold ribbon
I wanted the burlap to be frayed a little more. I gently took a couple of the horizontal strands from the top and bottom. Burlap is a loosely woven fabric, so be careful not to keep pulling and pulling strand after strand because soon you will have taken it all apart and you will have a pile of nothing.
I thought it could use just a little more sparkle, so a small beaded pear did just the trick.
And there they now sit adorning my mantle and perfect example of Autumn Elegance.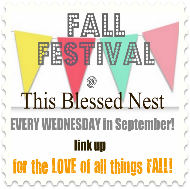 Fire flies and jelly Beans