We were guests of Lake Winnie, however, all opinions are my own
Lake Winnepesauka and SOAKYa water park
Chattanooga Tn
I am always on the lookout for a new family adventure to experience. After seeing lots of flyers for Lake Winnie and the SOAKya water park we decided that would be our next adventure. If you are looking for old school carnival rides, affordable prices and a nice laid back attitude this is the amusement park for your family.
Family Rides
We were so excited for our day of adventure that we got to Lake Winnie as the gates were opening. The wait wasn't long and the first ride that we went to was the classic Tilt-a-Whirl. We hadn't been on one in years so we scrambled right to it. It was just like the Tilt-a-Whirl I remembered as a child and we had a lot of fun. Other family rides include the Alpine way, Antique cars, paddle boats, matterhorn and tour train among others.
The antique cars were a family favorite. We couldn't seem to get enough of their classic look and gas powered motors. They didn't move very fast, but we all had a great time riding in them, over and over again. They look like they are right out of a movie.
The paddle boats are on Lake Winnie where all of this got started in 1925. It was nice to take a nice leisurely boat ride around the lake with the Alpine way ride going above our heads and the Boat Chute going along the side.
Thrill Rides
We are not huge thrill ride seekers and the thrill rides at Lake Winnie suited us just fine. My favorite was the Boat Chute which was the first ride in the park. After your ride through a pitch black tunnel the boat goes down the steep incline and skips across the water for a few feet. I rode this one several time and LOVED it.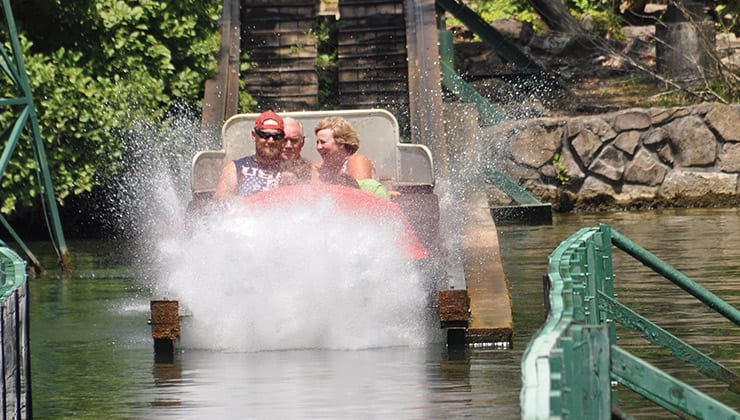 The bumper cars were just like a remember growing up where I could go anywhere I wanted on the floor. It was a great time with lots of screams and laughs. Other thrill rides include the Cannonball rollercoaster, Fireball, Wild Lightin' and Pirate ship among some others.
Picnic Area!
This was my favorite part about Lake Winnie. You can bring your coolers in and have a picnic there! In the amusement park! Now days that is hard to find and it was so much fun. After a few hours of thrill rides we spread out our picnic under the shade trees, relaxed and had a delicious lunch and even played a few rounds of horse shoes. After that refreshing respite it was time to enjoy the SOAKya water park!
SOAKya Water Park
At Lake Winnie it is possible and easy the enjoy both the amusement park AND the water park in the same day they are both the right size to make that possible. In fact you have to walk through the amusement park to get to the water park and your admission covers both.
The family favorites here were the Crazy River which is your classic "lazy river" and Coke Float cove. This attraction was a fun challenge on floating, oversized bottle caps. We spent a lot of time in both place and also enjoyed the 6 other fun slides. My tip for avoiding sunburns. We sunscreen BEFORE we leave the house, when we get to the park and then reapply every two hours. This has worked the best for my fair skinned family.
SOAKya had plenty of chairs and tables to relax and get some sun (or shade) and lots of fun activities for kids of all ages. The water park opens an hour after the amusement park and 2 hours before Lake Winnie closes. I thought that was perfect for our family. We had plenty of time to enjoy both parks and after we were done at the water park we still had time to ride some more rides.
My family enjoyed our visit to Lake Winnie. I love the fact that we could picnic in the park. I also appreciated that the rides were family friendly and that the parks were not too big. We could enjoy everything we desired. I do wish that would spruce up the amusement park for it was looking a tad shabby. It has been there for so long and has such classic rides it is like finding fun from yesteryear and I loved it. If you are in the Chattanooga area take some time to enjoy Lake Winnie. Remember to pack a cooler full of picnic yummies and be prepared for some old school fun.
Don't forget to pin to Pinterest!