Sponsored Post:  I was given product in exchange for this review.  However, as always, all opinions are my own.
We moved into our house about 3 1/2 years ago.  It was celebrating Its 17th birthday and was looking pretty good due to a few updates.  One thing that we have never liked though was the kitchen sink and faucet.  The sink was not deep enough to function like we wanted and the faucet, oh the faucet.  It has dripped and dripped and dripped.  Unless of course you held your mouth right and put the the handle in just the right place, then it would stop.  We even tried to repair it, but it had lived its life. When water started shooting out the back of the faucet, I knew it was time to replace it.  
 I am a Friend of Pfister faucets and when I told them about my faucet problem, they graciously told me that I could review one of their faucets, choosing one from their beautiful line of
kitchen faucets
.  It was a hard decision, but finally I chose the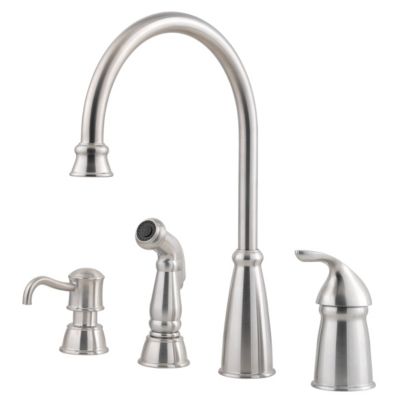 I don't know if I have every been so excited to open a package that arrived on my doorstep.  I was ready to have the dripping and the spraying from my old faucet stop for good.
Everything was neatly packaged and the instructions were easy to read with both words and pictures, making installation pretty easy.
The tools you will need to install the faucet, you probably have on hand already: An adjustable wrench, slotted screwdriver, pliers, and flashlight.  One thing you will probably need to run out and get before starting is Plumbers Putty.  You will definitely need this to help seal the parts, so water will not leak out.  It is explained in the instructions how to use it and where. 
 Because we chose to replace our sink at the same time, our project was a little more complicated than replacing just the faucet.  This is what our kitchen looked like in the middle of the project.  By this time I was more than ready to have it complete.
But when the faucet started going in, I got really excited about how it looked.
 I couldn't get it to be installed fast enough I was so excited.  It made the project totally worth it.  
 I love the line of this faucet.  It is classic elegance, yet it looks modern.  One thing I LOVE that I thought I wouldn't, is the soap dispenser that comes with the
Avalon
.  Years ago when we were building a house, so were friends of ours.  We were talking faucets one day and I mentioned how nice it would be to have the matching soap dispenser.  She disagreed, stating what a pain it would be to have to crawl under the sink to refill the soap.  I agreed and ever since then I have not wanted the matching, in the sink soap dispenser.  I am here to tell you I was WRONG!  The way it is installed, you refill it from the TOP!  No crawling under the sink contorting your body in weird ways.  You just take the top off the soap dispenser, pour in some soap and away you go.  I am so excited about this.  It makes my sink area look so elegant to have this complimenting soap dispenser. 
I couldn't be happier with my new Pfister Faucet.  It is beautiful and well made.  This model is commercial grade, which we could definitely use in our hard working kitchen.  The arch on the faucet looks gorgeous, but also makes it so easy to wash my big pots and pans.  It cleans up nicely also.  I can't believe how such a simple change, really upgraded the look and feel of my kitchen.  Now I look at my sink and don't hate it.  Now I just sigh and take in the beauty of it.