I am in the midst of getting this year's Christmas down and 2010 Winter Decor up.  I thought I would repost this to give me (and you) some inspiration.  Look for this year's decor in the next day or so.
 
 It is always fun for me to "re-decorate" after Christmas. Last year I was inspired by JOY to decorate for Winter. She is really the first decorating blog I found and I instantly fell in love with her style and talent. It is a fun and refreshing way to help liven up your home after the Holidays. Below are example of how I made Winter come to our Keeping Room.
One of the fun things about decorating is that you get to "play" (rearrange) with all your "toys"(beautiful treasures).  Here I will quickly take you step by step to how I ended up with this simple and elegant vignette for my side table.  I first started with just a vase filled with blue beaded flower picks (found on Christmas Clearance!)  It wasn't enough.
I pulled out a sweet little white creamer and dove to see how that would work.  It helped, but looked unfinished.
I then found a silver tray to group this little trio on.  WOW, what a difference.  Using any sort of tray to display a collection helps to give it a complete feeling and make a definite home for a vignette.
I thought I was done, but I decided to try this snowflake instead.  I really loved the height and the color it added.  This is the final product and I LOVE it.
 This picture shows before I really got down to decorating.  It does have a clean fresh look as compared to Christmas, but I really wanted to pull more white into it for a more Winter feel and to compliment the mantel.
 I added to the frame a coffee filter wreath I made a couple of months ago.  I simple hung it with some fishing line. 
 I also snuggled a matching snowflake in the middle.  It helps to unify this space.
 Here is my Winter Mantel.  Every time I walk into the keeping room I LOVE how elegant it is.  It is also very refreshing.
 I picked up this sweet little "Let it Snow" sign at an after Christmas sale.  The swirly font and the metallic finish make me feel giddy when I look at it.  Is it crazy to feel giddy at little design features?
 What a great picture to look at to make you get that giddy feeling!
 Some other elements on my mantel.  I have some white hydrangeas nestled in Epsom Salts.
I love this picture that captures the mantel and the side table.  Good decorating is so fun!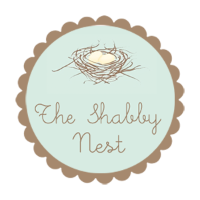 http://www.somewhatsimple.com/grab-a-button/